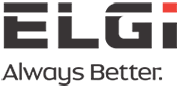 ELGi Air compressors Accessories
Air accessories
Elgi Equipments Limited is a leading air compressor manufacturer with a broad line of innovative and technologically superior compressed air systems. ELGi has earned worldwide distinction for designing sustainable solutions that help companies achieve their productivity goals and keep the cost of ownership low.
ELGi offers a complete range of compressed air solutions from oil-lubricated and oil-free rotary screw compressors, oil-lubricated and oil-free reciprocating compressors and centrifugal compressors, to dryers, filters and downstream accessories.
The company's portfolio of over 400 products has found a wide application across industries. Whether it is the paint on your wall, the car you drive, the medicines you take or the leather bag you carry, ELGi products have been used either in their production, maintenance or usage
Trolley Mounted Compressors 185-1500 cfm
Known for their reliability and ruggedness, ELGi portable compressors are available in single and two stage models to meet a wide range of applications like jack hammers, rock drills, impact wrenches, chipping tools and sand blasting.
Applications
Cable laying
Construction sites
Mining
Sandblasting
CBM (Coal Bed Methane)/oil & gas exploration
11 – 160 kW EG Series Screw Compressors
The EG series compressors represent a giant leap in design and performance with each component designed for reliability and ease of maintenance. The compressor is manufactured in compliance with applicable international standards (CE , ASME, UL and others) and designed as per the international quality standards. These new generation compressors significantly reduce operating costs and provide cost savings with fast return on investment.
EN Series Screw Compressors 3 to 45 kW
ELGi's EN Series screw compressors are designed to encapsulate all functional components of the compressor within a common housing. With a small footprint, high reliability and low maintenance requirements, these compressors are ideal for industrial applications where size, efficiency and cost matter.
Applications
Textiles
Food processing
Paper
Automotive
Small machining and fabrication workshops
Electric Oil-Free Screw Compressors
ELGi's oil free screw air compressors are one among the major outcomes of ELGi's expertise in manufacturing and marketing of air compressors worldwide for the past 50 years. These compressors are backed by emerging technology that conserves natural resources and environment from pollution.
Applications
Textiles
Electronics
Air Separation
Food and Beverages