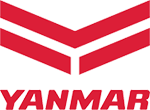 Marine Engine - 115 HP
6CH-HTE
YANMAR MARINE ENGINES
Reliability, Economical efficiency & Comfort for customers dedicated to Maritime Activity
Generations of expertise and experience, combined with unrivalled innovation and industry-leading technology, are built into every Yanmar marine engine. These are compact, lightweight, quiet, low emission marine diesel, renowned for their outstanding performance and rugged reliability. These marine engines go further and they work harder, year after year. Yanmar's ranges of marine diesel engines are leading marine engines in the market.
Yanmar Marine diesel engines are tougher and more powerful than their automobile counterparts. A brief description about range is as follows;
12 HP - 1822 HP
Direct injection, heat exchanger cooling.
Turbocharger + intercooler.
4-valves per cylinder for higher combustion efficiency.
Conform to IMO emissions regulations.