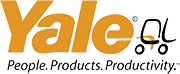 Diesel/LPG/Petrol Counterbalance Forklifts
GP20-35UX
Internal Combustion Counterbalanced Forklift
The new UX series of forklifts provide a cost-effective materials handling solution for warehousing and retail industries.
UX Series Specifications
The new UX series features four new IC counterbalance forklifts all with new pneumatic tyres, available in lift capacities from 2T to 3.5T.
Each model from 2T to 3.5T is available in three different fuel types diesel, LPG and dual fuel. All units have single speed transmissions and the ability to be fitted with various tynes and attachments making the unit suitable for a wide variety of applications.
The new UX series of forklifts have been designed and engineered to incorporate a number of new ergonomic and safety features that are highlighted below:
Improved Safety Features
The UX series includes a number of improved safety features making it one of the safest forklifts available in the market, features include:
New high strength profiled steel overhead guard (OHG) with high strength glass offering better reliability and operator safety in the event of objects falling on top of the forklift
New wide view mast (720mm outside width) providing maximum operator forward visibility, reducing the chances of collisions occurring with plant, equipment and employees working in the same area as the forklift
New smaller diameter 300mm steering wheel that is easily manipulated and ensure maximum responsiveness and mobility when operating in narrow aisles
Improved Operator Ergonomics
The UX series introduces a number of new or improved features that improve operator comfort, these include:
Full suspension seat that comes fitted standard with an operator presence system
Convenient step placement providing easy cabin access for operators of varying heights
Adjustable steering wheel with 8 degrees of adjustment to ensure steering wheel is ergonomically adjustable for operators varying requirements
Large 3.5" LCD provides clear and convenient display data including warnings during operations
Increased foot well size provides extra space between pedals providing increased operator comfort and reducing the risk of the incorrect pedals being discharged by accident
Full floating cabin system and dual suspension decrease engine noise and vibration
Improved Easy Servicing and Spare Parts Availability
A new larger engine compartment makes diagnostics, servicing and repairs even more convenient.
A large proportion of parts and components such as engine cover, instrument panel, display and most other components are exchangeable across all capacity units in the UX series makes keeping large stockholding of spare parts for individual models a thing of the past.