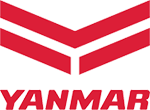 Mini Tiller
Mini Tiller YZC11
6HYM-WET MARINE DIESEL ENGINE
Powerful and friendly to people and environment.
Fuel Economy & Low Emission (meets IMO Tier 2 Compliant)
Operational Efficiency (High Torque)
Excellent Durability and Reliability
Safety and Easy Maintenance
A massive diesel featuring massive power
– High thru-put twin turbos, make possible the supply of ultimate volumes of fuel and air.
– Aiming to achieve the highest levels of fuel economy together with easiest maintenance requirements, this engine seeks to be easier on the environment and easier on the operator.
– A brilliant new high power engine to fill a wide range of needs, from fast fishing boats, to patrol boats, fast ferries etc.
PERFORMANCE
700hp (515kW) at 2200rpm in the S operating mode
This 165mm long stroker 13.7 liter class diesel, with big breathing valves for better airflow, the hi performance small twin turbos for compactness, less turbo lag, more compact air charging, and the numerous other performance features deliver power in large amounts over a wide operating range, especially under high load conditions.
600hp (441kW) at 2100rpm in the M operating mode
For users who require engines to run full throttle for up to 10 hours, this lower tune version will work hard in conditions demanding almost daily use (see performance chart).